Long hair is a blessing and a curse. While it may look beautiful when styled, it can be a nightmare when it comes to cleaning. Whether it's human hair or pet hair, those long strands have a knack for wrapping themselves around the brush roll of your vacuum cleaner, significantly reducing its effectiveness.
But don't despair! This ultimate guide will assist you in finding the perfect vacuum cleaner specifically designed to tackle long hair.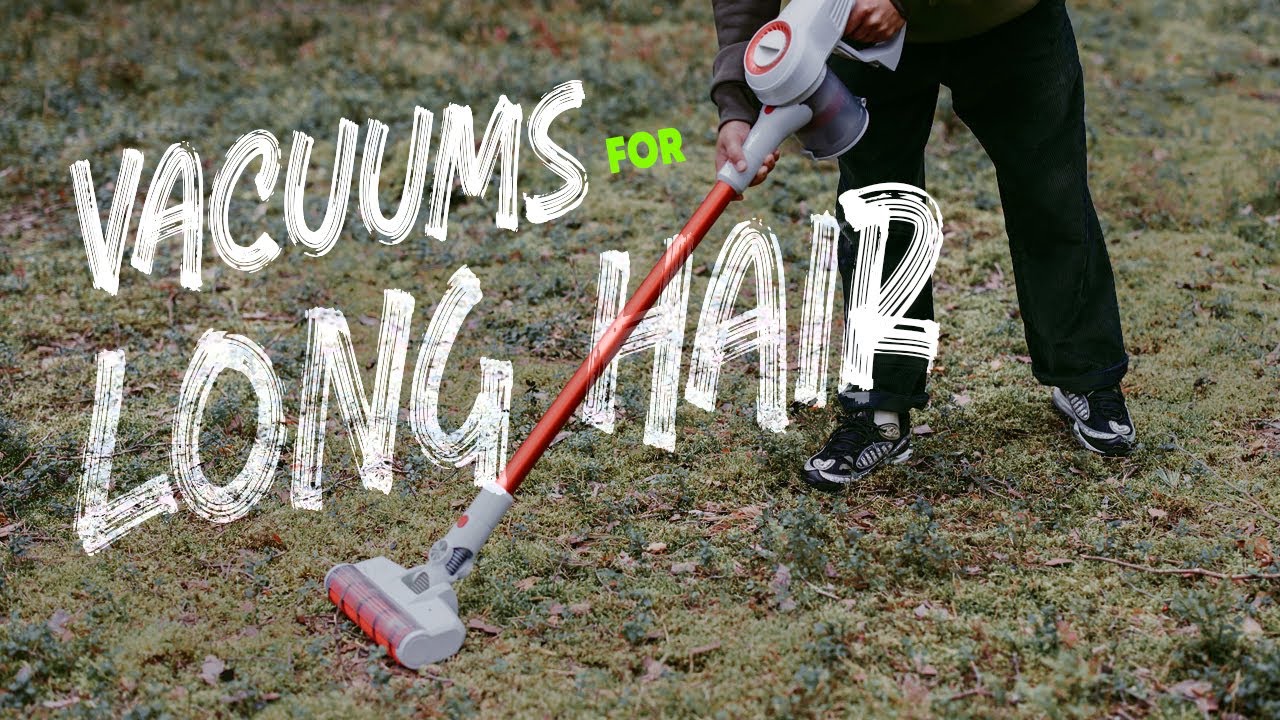 Introduction
Setting the Stage: The Challenge of Cleaning Long Hair
Cleaning long hair from various surfaces can be challenging. Traditional vacuum cleaners often struggle with long hair, leading to clogged brush rolls and reduced suction. Moreover, cleaning these tangled messes off your vacuum's brush roll can be time-consuming and frustrating.
Thankfully, certain vacuum cleaners are designed to handle long hair, making cleaning tasks much more manageable.
Purpose of the Guide: Helping Readers Find the Perfect Vacuum
This guide is here to help you find the perfect vacuum cleaner for long hair. We'll explore the key features to look for, discuss usability, compare prices, evaluate efficiency, and even scrutinize customer support. By the end of this guide, you'll be equipped with all the knowledge you need to make an informed purchase decision.
What to Look for in a Vacuum for Long Hair
Key Features: Suction Power, Brush Roll, and Filter System
There are three crucial things to consider while looking for a vacuum cleaner for long hair:
The vacuum's suction power is crucial. A vacuum with strong suction will be able to pick up long hair more effectively.
Consider the design of the vacuum's brush roll. Some vacuums come with anti-tangle brush rolls specifically designed to prevent hair wrap.
Consider the vacuum filter system. A vacuum with a high-quality filtration system will be able to trap small particles and allergens, improving the overall air quality in your home.
Usability: Weight, Maneuverability, and Ease of Cleaning
Usability is another essential factor to consider when purchasing a vacuum cleaner. Consider the weight of the vacuum - if you have stairs in your home or plan to carry your vacuum between different rooms, a lightweight design will be more convenient.
Maneuverability is also essential, especially if you need to clean around furniture or in tight spaces.
Third, consider how simple it is to clean the vacuum. Long-hair vacuums should feature easily removable brush rolls or special tools for removing wrapped hair.
Efficiency: Performance on Different Surfaces and Hair Lengths
The performance of a vacuum on various surfaces and with different hair lengths is also critical. Not all floors are created equal; hardwood, carpet, and tile each present challenges when cleaning long hair.
Therefore, choosing a vacuum that performs well across all these surfaces is essential. Additionally, the vacuum should handle both pet hair and human hair efficiently.
Top 3 Best Vacuums for Long Hair
Model 1: Dyson V15 Detect
The Dyson V15 Detect is a top-of-the-range cordless stick vacuum renowned for its powerful suction and impressive runtime of about 70 minutes. It comes with separate floorheads for bare floors and carpets, each with removable brush rolls that are easy to clean. Its built-in piezo sensor counts and measures particles being sucked into the vacuum, increasing its suction power on carpeted floors or areas with a lot of debris.
The Dyson V15 Detect stands out due to its powerful suction technology. It is designed to thoroughly clean any surface, from hardwood to high-pile carpet, picking up even the most stubborn dirt particles. Its capacity to respond to varied floor types and alter suction force accordingly distinguishes it from the competitors.
However, its ground-breaking laser dust detection system differentiates it from the Dyson V15 Detect. The slim cleaning head emits a green laser light that illuminates dust particles otherwise invisible to the naked eye. This feature ensures that no speck of dust is left behind, providing an unprecedented level of cleanliness.
Moreover, the Dyson V15 Detect has an array of attachments to cater to all your cleaning needs. This vacuum cleaner is versatile and efficient, from a hair screw tool designed to pick up long hair without tangling to a soft brush for delicate surfaces.
Another striking feature is its LCD screen, which provides real-time reports on collected particle size and quantity. This feature reassures users of their cleaning efficiency, making the Dyson V15 Detect a highly interactive device.
Regarding battery life, the Dyson V15 Detect delivers up to 60 minutes of runtime. Although this might be less than some of its competitors, it is essential to note that this runtime is achieved without losing suction power over time.
In conclusion, the Dyson V15 Detect is a high-performing, technologically advanced vacuum cleaner. Its unique dust detection system and versatile range of attachments make it a worthy investment for those seeking an effective vacuum for long hair.
However, its rather hefty price tag may prevent some customers from purchasing it. However, for those who can afford it, the Dyson V15 Detect provides an exceptional cleaning experience that more than justifies the price.
Model 2: Dyson V12 Detect Slim
The Dyson V12 Detect Slim offers similar features to the V15 but at a lower price point. It also has a smaller dustbin but is equally effective at removing long hair. The V12 Detect Slim includes two floorheads: one with a multi-surface bristles brush roll and one with a detachable and washable soft roller. The V12's Motorbar floorhead has wider and closer-spaced anti-tangling vanes than the V15's multi-surface head, making it even better at gathering hair.
The Dyson V12 Detect Slim is the latest innovation from the pioneering brand that continues to dominate the vacuum cleaner market. This model has been creating quite a buzz in the cleaning world, and it's not hard to see why. It's smart, sleek, and powerful, with features designed to change how you clean your home. This review explores what makes the Dyson V12 Detect Slim unique and why it might be one of the best vacuums for long hair.
At first glance, the Dyson V12 Detect Slim features a noticeably sleeker design than previous models. Its slim frame makes it easy to handle, effortlessly maneuvering around corners and furniture. This isn't just a cosmetic upgrade, as this slender design allows easy storage in compact spaces. However, despite its slim profile, the Dyson V12 Detect Slim doesn't skimp on power. It boasts a high-efficiency motor that provides strong suction, guaranteeing that no hair, dirt, or dust particles are left behind.
One of the Dyson V12 Detect Slim's standout features must be its laser dust detection technology. This incredible feature projects a laser light onto the floor that reveals even the tiniest particles of dust that would otherwise go unnoticed. You can always ensure a more thorough clean with no guesswork involved.
Regarding battery life, the Dyson V12 Detect Slim doesn't disappoint either. It offers up to 60 minutes of cleaning time on a single charge, which should be more than enough for most households. The battery is also readily removed and replaceable for prolonged cleaning sessions, which cost around $50 each.
The device has various tools and attachments, making it versatile enough to handle any cleaning task. These include a crevice tool, a soft dusting brush, and a stubborn dirt brush, among others. This model has been designed with convenience and versatility in mind.
Overall, the Dyson V12 Detect Slim is a powerful, versatile, and user-friendly vacuum cleaner that takes home cleaning to new heights. It's innovative features and slim design make it an excellent choice for anyone looking for the best vacuum for long hair. In conclusion, if you're after a vacuum that combines innovative technology with powerful performance to tackle the long hair issue, then the Dyson V12 Detect Slim should undoubtedly be on your radar.
Model 3: Tineco Pure ONE S15 Stick Vacuum
The Tineco Pure ONE S15 Stick Vacuum has features and boasts impressive cleaning ability for household dirt and long hair. It displays the power level, battery time, and clog warnings on an LED panel. According to customers' reviews, it's one of the best cordless vacuum models on the market, effectively removing fur or long hair from rugs in a single pass without clogging.
The Tineco Pure ONE S15 Vacuum is a highly rated, versatile cleaning tool that brings innovative technology into everyday household cleaning. This review evaluates its features, performance, and overall user experience.
The Tineco Pure ONE S15 Stick Vacuum's sleek design and impressive features stand out. It has advanced sensor technology that changes suction power based on the amount of dust detected, ensuring effective use of battery power and reducing excessive wear on the vacuum motor.
It also incorporates iLoop Dust Sensor technology that visually informs the user of the dust amount through an LED display, allowing for a more thorough cleaning.
Performance-wise, the Tineco Pure One Stick Vacuum has proven reliable and robust. It offers powerful suction, quickly picking up fine dust particles, long hair, and pet fur to larger debris. The vacuum's multi-tasker power brush effectively deep cleans various surfaces from hardwood floors to carpets, while its four-stage fully sealed filtration system captures and locks in tiny particles, preventing them from being released back into the air. This makes it an excellent choice for individuals with allergy concerns.
Regarding user experience, the Tineco Pure ONE S15 Stick Vacuum does not disappoint. Its lightweight design and cordless feature make it easy to maneuver around the house. Moreover, its noise optimization feature ensures quiet operation, making it less disruptive in a household environment. The vacuum also has an easy-to-empty dustbin, simplifying the cleaning process.
Furthermore, its intelligent app integration sets the Tineco Pure ONE S15 Stick Vacuum apart from other vacuums in the market. Users can monitor the vacuum's performance, receive maintenance reminders, and troubleshoot issues directly through the Tineco app.
In conclusion, this review finds that the Tineco Pure ONE S15 Stick Vacuum is a well-rounded vacuum cleaner combining innovative technology and powerful performance. It's thoughtful design and advanced features cater not only to cleaning efficiency but also to user convenience and health considerations, demonstrating its commitment to providing an enhanced cleaning experience.
Comparing Prices and Value for Money
Breakdown of Pricing for Top Models
Remember that the most expensive vacuum is sometimes the best for your needs when comparing prices. The Dyson V15 Detect, although pricier, provides excellent power performance and convenience but might be more than what some users need.
The Dyson V12 Detect Slim offers similar features at a lower cost, while the Tineco Pure One Stick Vacuum, Bissell Pet Hair Eraser, and LG CordZero A9 Ultimate provide more affordable options without compromising on necessary features.
Assessing Value for Money: Is a Higher Price Justified?
It's essential to weigh the benefits and features of a vacuum cleaner against its cost. Does it have a powerful motor? Can it adjust its suction based on the surface type? Does it come with a range of useful accessories?
These are all factors that can justify a higher price. However, if you're on a tight budget, affordable vacuums still do an excellent job vacuuming long hair.
Budget Options: Best Vacuums for Long Hair under $100
If you're on a strict budget, don't worry — great vacuums are still available for under $100. The best option for this job is the Bissell Pet Hair Eraser. This vacuum may not have all the fancy features of its more premium counterparts, but it should be adequate for dealing with long hair.
warranty Policies
Evaluating Customer Support: Responsiveness and Helpfulness
Good customer support can make a difference, especially when encountering issues with your vacuum. Look for brands that offer responsive and helpful customer service. Check out customer reviews online to understand how well the company handles customer complaints and issues.
Warranty Policies: What's Covered and What's Not
A good warranty policy is also crucial. Most vacuum cleaners have a one-year warranty, but some brands offer extended warranties. Make sure you understand what's covered under the warranty. For example, some warranties only cover certain parts of the vacuum, while others might cover labor costs for repairs.
Tips for Maintaining Your Vacuum
How to Prevent Hair from Tangling in Your Vacuum
The key to preventing hair from tangling in your vacuum is regular maintenance. After each use, take a few minutes to remove any hair wrapped around the brush roll. Some vacuums have special tools or detachable brush rolls to make this task easier.
Regular Maintenance: Cleaning and Replacing Filters
Regularly cleaning or replacing your vacuum filters will also help maintain their performance. Dust, hair, and debris may clog the filters over time, lowering suction power. Check the instructions for your vacuum to learn how frequently the filters must be cleaned or replaced.
When to Seek Professional Help
If you notice a significant drop in your vacuum's performance or it starts making unusual noises, it might be time to seek professional help. Don't attempt to repair the vacuum yourself, as this could void the warranty. Instead, contact the manufacturer or a certified repair center.
Wrapping Up: Making the Final Choice
Summing Up the Pros and Cons
Each vacuum machine has its own set of advantages and disadvantages.
For instance, while the Dyson V15 Detect offers powerful suction and several handy features, its higher cost and fragile parts may deter some buyers.
On the other hand, the Bissell Pet Hair Eraser provides excellent suction capabilities at a more affordable price point, but its shorter runtime might be a dealbreaker for some.
Personal Recommendations: My Top Pick for Long Hair
While all the vacuums reviewed in this guide perform well on long hair, I recommend the Dyson V15 Detect. Despite its higher cost, its powerful suction, long runtime, and range of valuable features make it stand out. However, consider your specific needs and budget before making a decision.
Other Factors to Consider: Your Home Size, Flooring, and Lifestyle
Remember, the best vacuum for you will depend on various factors. These include the size of your home, your type of flooring, whether you have pets, and your lifestyle. Ensure that the vacuum cleaner you choose fits your specific needs.
Frequently Asked Questions
Answering Common Questions about Vacuums for Long Hair
Many customers have common questions when buying a vacuum for long hair. These can range from how to maintain their vacuum, what features to look for, and how to determine value for money. We hope this guide has helped answer some of these questions and made the buying process less daunting.
Troubleshooting Common Issues
Common issues with vacuums for long hair include reduced suction power, tangled brush rolls, and short runtimes. Need to do regular maintenance, such as cleaning the filter and brush roll, can help resolve these problems. If issues persist, it's advisable to contact the manufacturer or professional repair service.
Keeping Your Vacuum in Top Shape: Tips and Tricks
Maintaining your vacuum will ensure it continues to perform at its best. Regularly empty the dustbin, clean or replace the filters as the manufacturer recommends, and keep the brush roll free of hair and debris. With proper care, your vacuum will last longer and provide optimal performance.