This power station is an absolute beast from its input power to its output power, to the sheer capacity, the amount of energy that this battery can hold. There is nothing else like Anker Powerhouse 767.
You can watch the review video by Billy Kyle below: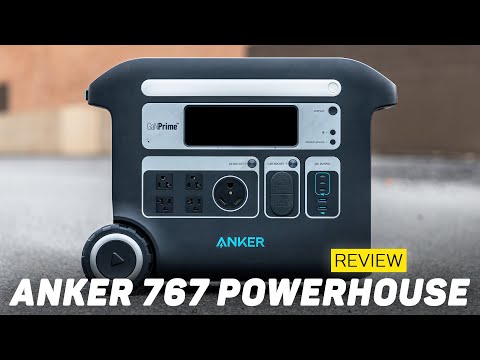 So as of recently, I've been road-tripping like crazy from my home in Philadelphia. I've driven to Florida, Dallas, Ottawa, and many other places. The gear I bring on each trip varies depending on what I'm doing. Still, one piece of equipment always comes with me, the Anker Powerhouse 767, because of the peace of mind it gives me like I never have to worry about running out of power.
For days on end, it feels like a disservice to call this a battery because, in reality, it is a portable backup generator that just so happens to be a massive battery that can power anything you need for a long time.
Design of Anker Powerhouse 767
So to cover the general design of this beast, the overall build quality is one of its best qualities. This will take some abuse during your time using it. There will be times when it's in your trunk; you might store it in the back of a truck bed exposed to the elements. You'll likely be carrying it in all different types of terrain, like a campsite, a field, a job site, literally anywhere that you can use portable power.
All materials are premium, from high-quality plastic to clicky tactile buttons, and well-built overall. You've got these two handles at the top that make moving the Anker Powerhouse 767 much easier, but when you need to transport this battery further, there are two rubber wheels fixed to the bottom and what Anker calls EasyTow ™.
The EasyTow ™ pops up from the side with the push of a button. The handle is a must-have feature, as Anker Powerhouse 767 comes in at a whopping 67 pounds. This is a big battery, but as we'll see shortly, it can deliver some serious power. When that handle is positioned at the top, it is easy to pick up and go and is long enough that it won't accidentally trip you up when you walk.
The rubber wheels also provide a nice ride on the ground. You won't have to worry about damaging the power station if you're trying to wheel it over rocks, grass, or other rugged terrains. When you set the power station down, you can rest it a long way, but with the little rubber feet on the handle, you can also put it on its side, which could help fit it into a tight spot.
Every time I review one of Anker's batteries, I'm always impressed by its build quality. So it's no surprise that the Anker Powerhouse 767, their largest and most expensive battery, follows suit, being very well constructed.
If you look closer to the outside, we have a built-in light bar at the top with three different modes: low, medium, and high to supply light for over ten full days on a full charge on the brightest setting. The little light puts in a good amount of light and is a pleasantly warm temperature, so it's easy on the eyes.
The display at the top shows information like the battery percentage remaining, the amount of power being put into the battery, the output power of the devices connected, and the amount of time the battery has. Its current capacity is displayed in hours or days, depending on what you're using. This is nice to glance at quickly and understand exactly how much longer you must use the battery based on your current usage.
On the screen, you can also see the input power in Watts, amongst other status indicators. Besides the screen are the first set of buttons, one to illuminate the display, one to enable Bluetooth, and one to turn on the power-saving mode that will automatically disable specific ports if they aren't used for an extended period, like the AC outlets.
Below, we can find the part where most people are interested in the port selection. From left to right, we have four AC outlets capable of outputting up to 2,400 watts, a single TT 30R DC outlet, two car sockets, three USB-C ports, each capable of delivering 100 watts, and then two USB-A ports capable of providing about 12 watts each. In total, we have 12 ports on the Powerhouse 767, allowing us to power and charge various devices.
I want to point out the input methods on the back of the power station covered by a plastic flap. You have the input for charging from a solar panel array, the wall, or even your car. There's also a reset button on the back that you can use if you blow a fuse inside the power station.
So other than everything I just mentioned, the final thing I want to point out is all of the fans and ventilation points around the outside of the power station, which is handy because it will help cool the internals when it's under heavy load.
Power Capacity of Anker Powerhouse 767
The total capacity of this power station is 2048 watt-hours. For reference, the last Anker power station I reviewed, the Anker Powerhouse 757, had a 1,229-watt-hours battery. The Powerhouse 767 battery has doubled its capacity, which is hard to fathom.
It's not only impressive capacity; the max AC input power of 1,440 watts means that you can charge this entire battery 2048 watt hours in two and a half hours. You'll only need about an hour and a half to get 80% through Anker's HyperFlash charging. The fast charging speed is great because if you start running low on your battery, you can plug it into the wall or any AC outlet and charge it up quickly.
For example, if the power goes out in your home and you're starting to run low on this battery, you don't have a solar panel to trickle charge off of as you use it throughout the day. You could bring it somewhere else that does have power, quickly plug it in, get a ton of power on, say an hour and a half's time, bring it back, and then power your devices for days.
I fly drones daily, so my primary use case for this portable power station is charging batteries for my drone while on the go. Most of my drone batteries require a significant amount of power in terms of their capacity, energy, and speed they charge.
Some also have proprietary chargers that only charge over an AC outlet, so that I couldn't charge this over a smaller power bank with a USB-C port. I must plug it into a wall or a giant power station like the Anker Powerhouse 767, for example, the Maverick Air 2 and the Air 2S.
Luckily newer drones like the Mini 3Pro and the Mavic 3 all charge over USB-C so that I can plug the USB-C cable into the drone itself. But the issue with using a smaller power bank is that you'll probably kill that entire battery. The capacity of the Anker Powerhouse 767 is relatively large, so I'd prefer to charge my drones off a larger power station like the 767 because I can get more mileage.
One of those examples that I just gave was the Mavic 3, and this is my go-to drone. I fly this daily and go through batteries like crazy between flying construction, real estate jobs, and of course, just for fun capturing content for my YouTube channel and other social media platforms. I typically will run two hubs at once to charge my batteries so that I can always make sure that I have fully charged batteries.
I never want to get caught where I'm waiting for them to charge because I can usually kill one full drone battery when it takes to charge two fully. So Anker Powerhouse 767 helps me stay fully juiced while I'm running two of the hubs at once from the AC outlet requires 136 watts of power, and at total capacity, I can continue to provide power to my two battery hubs for 12 total hours.
That means that for the entirety of my day outlying, I can have batteries on charge, and I can promise you that I am not flying for 12 hours in a day. Even when I'm out flying with friends, and I've got multiple people that want to charge off of the Anker Powerhouse 767, I don't even care because as long as I have this thing fully charged at the start of the day, it can supply us with enough power to get through the entire day.
We can plug three or four drones into Anker Powerhouse 767. We can also charge other remote controllers, phones, tablets, etc. This power station will supply more than enough power for a full day of flying for you and many of your friends. Regarding some of the other drones that I own and fly reasonably frequently, here are some numbers I came up with based on my charging tests.
You don't need to worry about power when bringing Anker Powerhouse 767. The result is 33 Mavic 3 charges, 50 charges of the Mavic Air 2 or Air 2S battery, and over a hundred charges of Mini 2 or Mini 3. You will get so many charges from this battery that you stay supplied during the day.
This isn't all about flying drones only. Of course, it's my primary use and comes with me almost everywhere when I go out for extended periods. But I have used it to charge and power other devices as well. For example, I plugged in a mini fridge, a big fridge, a hair dryer, a heater, a portable AC unit, a fan, and the aperture light. I also plugged in my Onewheel, laptop, and camera.
You can get intense usage from a battery on larger appliances like my fridge and Onewheel, that has massive battery. So this power bank can charge and power a whole lot of things. We can also head over to Anker's website to get a sense of what they expect you'll be able to use this power station for.
So, for example, they have things within the home backup. They have something within the recreation, like powering a grill, a speaker, or lights. You could also look at travel; they have a drone and phone. Finally, power tools such as electric drills and chainsaws are used for professional use. Anker Powerhouse 767 can power these for quite some time based on how much power they're pulling.
This question will likely come up, and the answer is Yes. Anker Powerhouse 767 can charge an electric vehicle because of its output, power, and capacity. With my Tesla model Y performance, it starts charging up right when I plug the car in. Just know that it's going to take a very long time.
From my test, to get from 65% in my car to the charge limit I have set of 90%, it would take 14 hours. This isn't technically possible, though, as with a full charge on the 767 power station, it would only supply power for over an hour at an output of 1400 watts. However, you could provide power indefinitely to your car if you had a solar panel attached and with a max input of 1400 watts.
If you get peak performance from your panels, you could charge your car entirely from the sun. It's not likely, though, that you to be able to get peak power consistently, so you to be using power faster than you could replenish it. If I lowered my charge limit to 70%, I could see how long it would take me to add 5% to my car. Anker Powerhouse 767 said it would take about two and a half hours.
While this is a novelty feature and can help you out when you're camping, I would only bank on getting you a little power while on the road. You'll also need a grounding plug to make this work, which you can pick up cheaply on Amazon.
Anker Powerhouse 767 App
So Anker Powerhouse 767 is a big and powerful battery, and it's not only the capacity and the input and output power that makes this thing such a beast. It's also the technology that's built inside of the battery that makes it brilliant and even more powerful. For example, the Anker app lets you remotely control and monitor your power station.
This feature is excellent when you need direct access to the power station, such as turning ports on and off, and allows you to monitor the amount of power each port is using, whether you're camping or using this as a battery backup in your home. It has been my favorite way to interact with the Anker Powerhouse 767 because of the intuitive user interface.
The Durability of Anker Powerhouse 767
The batteries in this power station are incredibly durable. That's the word you could use, and Anker pledged that the batteries could last for a lifespan of up to 10 years, and they come with a five-year warranty.
To note a couple more points on their website, the battery pack can withstand up to 3000 charge cycles. They use a high-quality set of electronics and have high-end cooling built inside. The durability of the casing protects the batteries from any hard drops, and the power station monitors the battery pack temperature up to 100 times per second, so you don't have to worry about the power station overheating during charging or usage.
Safety and reliability for a battery pack of this size are paramount. I probably shouldn't have to say it, but you don't want your battery pack to go bad after one year. You want to get years and years of constant use out of your battery pack as you spent a lot of money on it.
So the good thing is they are reliable batteries built inside and come with a five-year warranty. If anything goes wrong, they will be covered, so you have good peace of mind there. You also want to ensure this is a safe battery pack because you're inputting a lot of power and outputting a lot of power.
A lot could go wrong with a battery of this size, and it's great to know that Anker has built a bunch of safety precautions and technology into the battery pack to ensure it is as safe as possible.
Features of Anker Powerhouse 767
This power station is packed with Anker's GaN technology, which they call GaN Prime. This new technology boosts charging efficiency to 96% and allows the battery to run cooler when set by 30 degrees Celsius.
There are other different features that I want to mention. First, you can use this power station as a UPS, an uninterrupted power supply. So you could have this plugged into any of your devices or appliances in your home, and it has a switch over time of under 20 milliseconds. So if the power goes out, this will automatically start supplying power for a seamless transition.
Regarding the AC outlets, Anker Powerhouse 767 is automatically programmed to shut down the AC output. AC power will always have a slight drain if no device is connected. If you accidentally left them on, you might return to a completely dead battery, which is a bummer.
On the topic of power saving, there's also a power saving mode that will automatically shut down any port when a device has finished charging. This feature further saves access power drain from any appliances you leave plugged in.
My Verdict on Anker Powerhouse 767
So the AAnker Powerhouse 767 has it all. It's got a massive capacity battery and insane input and output power. There are a ton of ports on the front to help you supply power to any device you need. It's safe and reliable, and this is Anker's top-of-the-line offering for their power stations, but if this is too much for you, don't worry.
They do offer some other options that are smaller and more portable, depending on your needs. Anyway, thank you so much for reading my review of Anker Powerhouse 767.