When grooming your poodle, using the right clippers makes all the difference. Ensuring your poodle has a neat and well-maintained coat isn't just about aesthetics but comfort, health, and happiness. Whether you're a professional groomer or a proud poodle parent embarking on DIY grooming, This in-depth guide will assist you in navigating the dog clipper market and selecting the ideal set for your beloved poodle. So, let's dive in!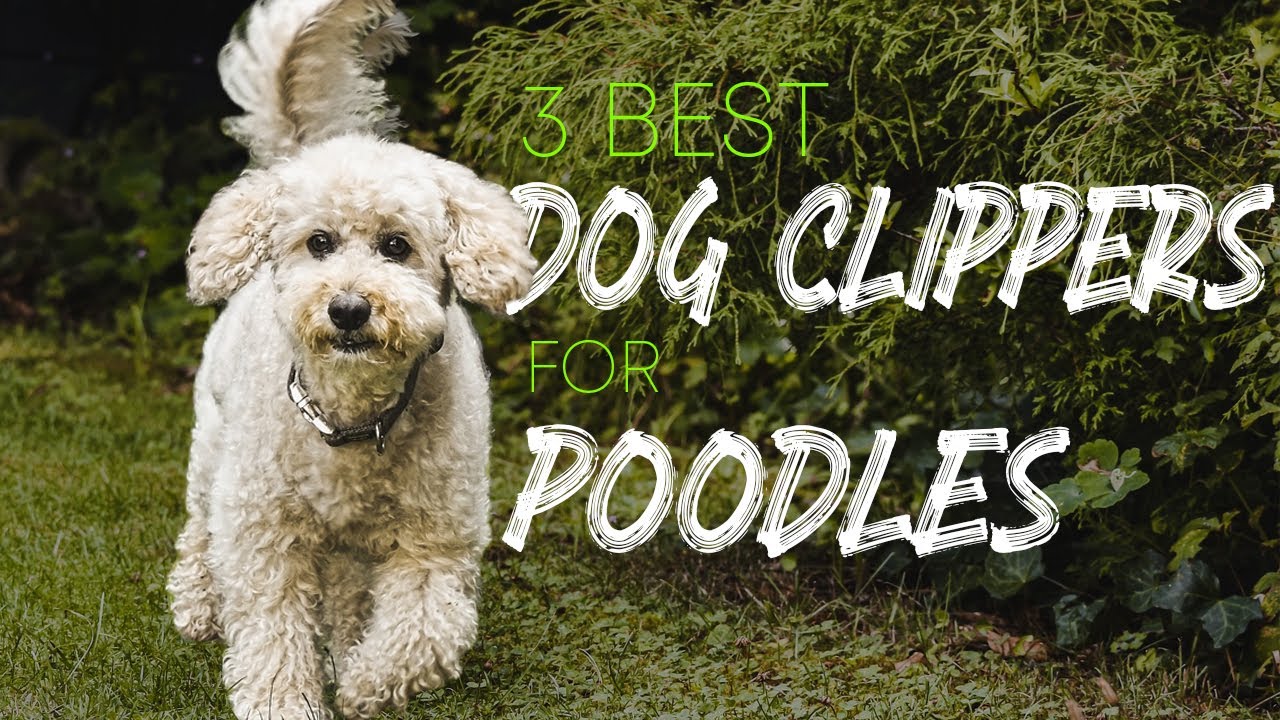 Introduction
Why grooming your poodle is essential?
Grooming is not just about keeping your poodle looking prim and pristine; it's also crucial for their health and well-being. Regular grooming helps to keep your poodle's coat clean, free from mats and tangles and reduces the risk of skin infections. Plus, it allows you to check for abnormalities like bumps, lumps, or parasites that may need veterinary attention.
What makes Poodles' hair unique?
Poodles are known for their dense, curly coats. Unlike other breeds, poodles don't shed their fur; they grow continuously like human hair. This unique trait makes them hypoallergenic but also requires regular grooming to prevent their hair from becoming overly long and matted. Choosing the right clippers for this distinct coat type is crucial for effective and efficient grooming.
Understanding Dog Clippers
Different Types of Dog Clippers
Rotary Motor Clippers
Rotary motor clippers are powerful tools that can handle heavy-duty grooming tasks. They operate at high speeds and offer consistent power, making them ideal for cutting through thick, dense coats like a poodle.
Pivot Motor Clippers
Pivot motor clippers are typically quieter than rotary motors, making them a good choice for dogs sensitive to noise. However, they may offer different levels of power or speed.
Magnetic Motor Clippers
Magnetic motor clippers are lightweight and easy to handle, but they can heat up quickly and may not be powerful enough for thick poodle coats.
Recommended Blades Size
The blade you use with your clipper significantly impacts the length of your poodle's coat as you glide over it. Most professional groomers recommend using size 15 or 30 blades for trimming the face, feet, and tail base. For clipping the body, a 4 to 7-blade is generally recommended.
Selecting the Best Clippers for Poodles
Key Features to Look For
Powerful Motor
A powerful motor ensures the clippers can easily cut through your poodle's dense, curly hair without pulling or causing discomfort. Look for clippers with a high stroke per minute (SPM) rate.
Quiet Operation
A quiet clipper can make the grooming experience less stressful for your poodle, especially if they're sensitive to noise. Clippers with pivot motors are typically more silent than those with rotary motors.
Comfortable Grip
Grooming a poodle can take some time, so a comfortable grip is essential to reduce hand fatigue. Look for clippers with ergonomic designs and non-slip handles.
Adjustable Blade Lengths
Clippers with adjustable blade lengths allow for versatility in grooming, letting you customize the length of your poodle's coat to your liking.
Durability
Investing in a durable, high-quality clipper can save you money in the long run. Look for clippers made from sturdy materials and backed by a reliable warranty.
Ease of Use
Look for clippers that offer an ergonomic design and are easy to handle. Bulky or difficult-to-use clippers can make grooming tasks challenging and time-consuming.
Corded vs. Cordless
Both corded and cordless clippers have their pros and cons. While cordless clippers offer greater mobility and convenience, corded ones ensure an uninterrupted power supply. Choose according to your grooming needs and preferences.
Strokes per Minute (SPM)
The SPM of a clipper refers to the speed of the blade movement. Clippers with high SPM can cut through poodles' thick and curly hair more efficiently.
Noise, Vibration, and Heat Generation
Choose clippers that operate quietly, have low vibrations, and don't overheat quickly. These features are essential for a comfortable and stress-free grooming session for your poodle.
Blades and Accessories
The best dog clippers for poodles come with professional-grade, sharp blades and various comb attachments for different coat lengths. Some also offer detachable blades for easy cleaning and replacement.
Top Brands to Consider
Regarding dog clippers, brands like Oster, Wahl, and Andis come highly recommended. These brands are known for their quality, durability, and performance specializing in dog and cat grooming.
Product 1: Wahl Arco Cordless Pet Clipper
Buy Wahl Arco Cordless Pet Clipper on Amazon
Features
Regarding pet grooming, the Wahl Arco Cordless Pet Clipper stands out as the quintessential tool for any pet owner or professional groomer. This remarkable device is a game-changer, offering a blend of performance, convenience, and innovation that makes pet grooming a breeze.
The Wahl Arco Cordless Pet Clipper has been the favorite clipper for pets. Whether you own a poodle that needs a trim or a shih tzu with matting issues, this clipper has got you covered. Its high-performance motor ensures the blades glide through the thickest of coats with ease, reducing the risk of pulling or snagging. It has a powerful Lithium-ion battery and German-made 5-in-1 blades that are perfect for different hair lengths. It operates at a high speed of 5500 strokes per minute and offers a long battery life.
One of the most appealing features of the Wahl Arco Cordless Pet Clipper is its cordless design. No longer do you have to worry about maneuvering around cords or finding a plug near your grooming station? The clipper comes with two rechargeable battery packs that offer 80 minutes of run time each, allowing ample time to perfect your pet's look. The freedom and flexibility provided by this cordless clipper are excellent.
In addition to its impressive performance and convenience, the Wahl Arco Cordless Pet Clipper also boasts an ergonomic design that makes it comfortable to use for extended periods. Its lightweight structure and slim design fit snugly in your hand, reducing hand fatigue during those long grooming sessions. Furthermore, it operates quietly, ensuring a stress-free experience for your furry friend.
Maintenance-wise, the Wahl Arco Cordless Pet Clipper is a dream come true. The removable blades simplify cleaning by quickly removing hair stuck in them. Plus, it comes with oil for blade lubrication to ensure your clipper stays in top-notch condition.
In conclusion, the Wahl Arco Cordless Pet Clipper is more than just a tool; it solves all your pet grooming challenges. Its superior performance, cordless convenience, ergonomic design, and easy maintenance make it a must-have for any pet owner or professional groomer. With this clipper in your arsenal, pet grooming will no longer be a chore but an enjoyable task that leaves your pet looking and feeling their best.
Pros and Cons
Pros of Wahl Arco Cordless Pet Clipper:
Versatility: Suitable for small to medium dogs with various types of coats, including curly, short, medium, and heavy-duty ones

Low Noise: These clippers are very quiet, making them ideal for dogs sensitive to noise

Lightweight: The clippers are light in weight, providing ease of use

Cool Blades: The blades stay cool even after prolonged use.

Comes with Two Battery Packs: This allows for continuous operation even when one battery is charging.

Lower Cost: The Wahl Arco cordless pet clipper is more affordable than other models.
Cons of Wahl Arco Cordless Pet Clipper:
Short Battery Life: The battery life is shorter than newer models with Lithium batteries.

Charging Time: It may take considerable time to charge the batteries fully.

Vibration and heat: Some dogs may be sensitive to the vibration and heat produced by the clippers.
Product 2: Andis AGC2-2 Speed Detachable Blade Pet Clipper
Buy Andis AGC2-2 Speed Detachable Blade Pet Clipper on Amazon
Features
Every pet owner and professional groomer knows the importance of having a reliable and efficient clipper. One of the market's most popular and trusted choices is the Andis AGC2. This comprehensive review aims to delve into this product's features, benefits, and potential downsides to help you make an informed decision.
The Andis AGC2 is a two-speed clipper that boasts versatility and power. Depending on your pet's grooming needs, you can choose between 2700 strokes per minute for precise trimming or 3400 strokes per minute for a more potent cut. This feature makes it suitable for different hair types and lengths, from thick and coarse to thin and delicate.
One of the standout features of this clipper is its ultra-durable housing. Known for being shatter-proof, it ensures longevity even with regular use. This robust design also provides the following:
A comfortable grip.
Allowing you to maintain control while grooming.
Minimize the risk of accidental cuts or nicks.
The Andis AGC2 also prides itself on its quiet operation. Unlike other clippers that can be loud and potentially distressing for pets, this model operates with minimal noise, making grooming a more comfortable experience for your furry friend. This is important, especially for anxious or frightened pets who hear clippers.
Another impressive feature is its detachable blade system. This makes blade changing and cleaning effortless, saving time and ensuring sanitary grooming. The clipper comes with a size 10 UltraEdge blade known for its excellent cutting ability, but it is also compatible with all Andis UltraEdge, CeramicEdge, and Oster A-5 blades.
However, as with any product, the Andis AGC2 has its potential downsides too. Some users have mentioned that it tends to get hot after prolonged use, which could be uncomfortable for both the user and the pet. It's essential to take regular breaks during grooming sessions to let the clipper cool down. Additionally, its price point is higher than other models on the market. However, many believe that the quality and durability of the product justify this cost.
In conclusion, the Andis AGC2 is a reliable, powerful, and versatile option for pet owners and professional groomers. Its range of features, including two-speed operation, durable housing, quiet operation, and a detachable blade system, make it stand out in the crowded market of pet clippers.
While it may require occasional breaks during intense grooming sessions and carries a higher price tag than some competitors, many consider these minor inconveniences when weighed against its overall performance and durability. The Andis AGC2 is undeniably a strong contender for high-quality grooming tools.
Pros and Cons
Pros of Andis AGC2 Pet Clipper:
High-quality build: As per Andis' reputation, the AGC2 clipper is known for its high-quality construction, ensuring durability and long-lasting performance.
Versatile: The clipper is excellent for different types of coats and lengths, making it suitable for various breeds and sizes of pets.
Powerful: The Andis AGC2 pet clipper is powerful enough to handle thick hair and tangles, making it ideal for heavy-duty grooming.
Professional-grade: Like many products from Andis, the AGC2 pet clipper is professional-grade, making it an excellent choice for home and professional use.
Cons of Andis AGC2 Pet Clipper:
Size: Andis clippers, including the AGC2 model, aren't the slimmest on the market, which might make them slightly uncomfortable for some users.
Weight: Though rarely heavy, some users might find the AGC2 slightly cumbersome during prolonged use.
Corded: While Andis does offer cordless options, the AGC2 is a corded model. This could limit mobility and convenience for some users.
Price: As a high-quality, professional-grade product, the AGC2 pet clipper might be more expensive than other options in the market.
Product 3: Oster A6 Cool Comfort 3-speed Pet Clipper
Buy Oster A6 Cool Comfort 3-speed Pet Clipper on Amazon
Features
The Oster A6 Cool Comfort stands out for its efficiency, durability, and innovative design. It is a must-have for any professional groomer or pet parent.
This heavy-duty motor offers three different speed settings, ranging from 3,100 to 4,400 strokes per minute. You can adjust the clipper speed depending on your pet's size, coat thickness, and grooming needs. Whether dealing with a tiny pup with a thin coat or a large dog with thick fur, this clipper has covered you.
Next, let's talk about the clipper's ergonomic design. The Oster A6 Cool Comfort is designed to provide maximum comfort and control during long grooming sessions. Its lightweight and slim profile makes it easy to handle and maneuver. Moreover, it comes with a soft-grip material that reduces hand fatigue and vibrations, making it easier on your hands.
But what truly sets the Oster A6 Cool Comfort apart is its innovative cooling faceplate. This unique feature helps keep the clipper cool during operation, preventing overheating issues common with many high-speed clippers. This not only ensures a comfortable grooming experience for your pet but also extends the life of the clipper.
Additionally, the Oster A6 Cool Comfort boasts high-quality zinc alloy technology, making it one of the most durable clippers on the market. It can withstand heavy use without losing efficiency or performance. It includes a detachable blade design that makes cleaning and blade replacement simple.
However, like any product, the Oster A6 Cool Comfort has drawbacks. Some users have reported issues with the clipper's power cord getting tangled during use. Also, the clipper can be a bit noisy at higher speeds, which is not recommended for pets sensitive to sound.
In conclusion, the Oster A6 Cool Comfort is a well-rounded grooming tool that delivers on its promises of power, comfort, and durability. It may have minor flaws, but its numerous benefits quickly overshadow them. Whether you're a professional groomer looking for a reliable workhorse or a pet parent who wants only the best for their furry friend, this clipper is worth considering.
Pros and Cons
Pros of the Oster A6 Cool Comfort Pet Clipper:
Lightweight: Weighing in at just 12.9 oz clipper, making it easy to handle during grooming sessions.
Vibration Isolators: This clipper features patent-pending vibration isolators centered around the motor. This design helps absorb vibration and noise, providing a more comfortable grooming experience for both the pet and the user.
Long Cord: Reviewers have mentioned that the cord is long enough, providing ample freedom during grooming.
Effective Grooming: Users have praised its effectiveness in grooming their pets, stating their dog looked great after using it.
Recommended by Professionals: Professional groomers gave it a 5-star rating and recommended it for its comfortable handling and performance.
Cons of the Oster A6 Cool Comfort Pet Clipper:
Heating Issues: Despite its name, some users reported that the blade still gets hot during use.
Hair Collection: It has been noted that this clipper tends to collect hair on the blade during grooming, which might require frequent cleaning.
How to Use Clippers for Grooming Your Poodle
Preparing Your Poodle for Grooming
Before beginning the grooming session, ensure your poodle is calm and comfortable. It might help to take them for a walk or play with them to expend some energy. Next, brush their coat thoroughly to remove any knots or tangles. To help your poodle develop a positive relationship with grooming, always be kind to them and praise them as you go along.
Step-by-Step Guide to Clipping
Start by trimming the hair around your poodle's face, feet, and tail base using a size 15 or 30 blade. Then move on to the body, using a 4 to 7-blade, depending on your length preference. Work in sections, moving from head to tail, and always clip toward hair growth to achieve a smooth finish. Keep the clipper blades flat against the skin to avoid nicks and cuts. Regular breaks are essential to check the temperature of the clippers and to give your poodle a rest.
Tips for a Stress-Free Grooming Session
Patience is vital when grooming a poodle. Don't rush the process; instead, work slowly and calmly. Keep treats on hand to reward your poodle for their cooperation. If your poodle becomes anxious or agitated, consider taking a break and resuming the grooming later or another day.
Caring for Your Clippers
Cleaning Your Clippers
Regular cleaning of your clippers is essential for their performance and longevity. After each use, remove hair from the blades and apply a few drops of blade oil to stop the blades from rusting and keeps them functioning properly.
Maintaining Blades
It would be best to sharpen the blades regularly to maintain their cutting performance. You can do this with a knife sharpening tool or send them to a professional service, and always store blades in a dry place to prevent rusting.
Storing Your Clippers
Keep your clippers in a cool, dry location when not in use. Many clippers come with a storage case for easy organization and protection. Avoid storing your clippers in humid areas, leading to rust and damage.
Conclusion
Making the Best Decision for Your Poodle
Choosing the right clippers for your poodle is crucial for maintaining their beautiful, curly coat. When deciding, consider factors such as power, quiet operation, comfortable grip, adjustable blade lengths, and durability. Investing in high-quality clippers can save you money in the long run and make the grooming process more accessible and enjoyable for you and your poodle.
Final Thoughts on Choosing Dog Clippers
Grooming your poodle at home can be a rewarding experience, but it requires the right tools. With so many options, finding the best dog clippers for poodles can feel overwhelming. But with the information in this guide, we hope you're now well-equipped to make an informed decision. Happy grooming!