Welcome to the comprehensive reference for choosing the best boots for rucking. The right pair of boots can make all the difference on your rucking adventure, and that's why we created this comprehensive guide. Whether you're a seasoned Rucker or just starting, we've got you covered.
Introduction
What is Rucking?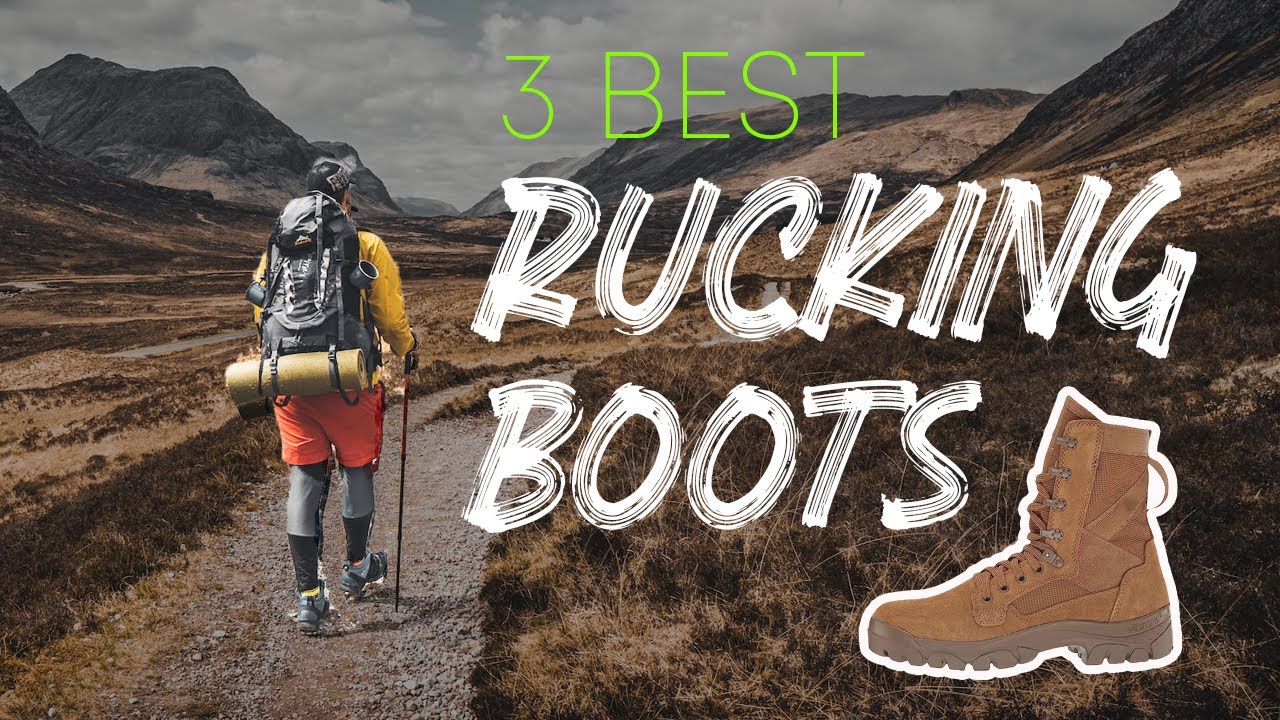 Rucking is an endurance exercise, in its simplest form, is walking with a weighted backpack. It's a form of exercise that combines strength training and cardio, engaging multiple muscle groups and improving overall fitness. Originating from military training, where soldiers carried heavy packs over long distances, it has become famous for outdoor enthusiasts and fitness buffs.
The Importance of Choosing the Right Boots for Rucking
The importance of choosing the best boots for rucking cannot be overstated. It's not just about comfort – although that's undoubtedly a key factor. A good pair of boots provides the necessary support and stability when carrying extra weight and traversing uneven terrain. The proper boots can safeguard your feet and ankles from injury, maintain dry feet, and improve your performance.
The Criteria for Selecting the Best Rucking Boots
Importance of a Perfect Fit
A perfect fit is paramount when choosing rucking boots. Boots that are too oversized can cause blisters, while those that are too small can lead to painful pressure points. To ensure a good fit, try on boots later in the day when your feet tend to be at their largest and wear the socks you plan to use for rucking.
Understanding Uniform Compliance
If you're using your boots for military rucking, they must meet certain specifications. For example, they typically need to be 8-10 inches high, tan or coyote in color, have a sole that matches the boot's color, and be no more than 2 inches tall. The upper and outsole should be made of leather and rubber, respectively.
The Value of Comfort and Support
Comfort and support are crucial for any rucking boot. Look for boots with adequate cushioning, especially in the insole and midsole. Ankle support is also essential, as it can prevent injuries on rough terrain. Remember, you'll be wearing these boots for long periods, so they need to be comfortable.
How to Choose Boots Based on Different Terrains
Different terrains call for different types of boots. If you'll be rucking on hilly or mountainous trails, you'll want boots with excellent traction and ankle support. For flat, well-maintained trails, lighter trail running shoes may suffice. Consider the environments you'll be facing and choose your boots accordingly.
Top Rated Boots for Rucking
| | Rocky C4T | Garmont T8 BIFIDA | Belleville C320 One Xero |
| --- | --- | --- | --- |
| Price | $99.99 | $136 | $191.99 |
| Weight | 4.5 lbs | 3.51 lbs | 4 lbs |
| Height | 7" | 8" | 8" |
| Material | Leather/Textile | Leather/Textile | Leather/Nylon |
| Waterproof | Yes | Yes | No |
| Removable Insole | Yes | Yes | Yes |
| AR 670-1 Passed | No | Yes | Yes |
| Gore-Tex | Yes | No | No |
| Made in | Dominican Republic | USA | USA |
Rocky C4T Gen 2 Ruck Boots
Buy Rocky Men's C4T Tactical Boot on Amazon
The Rocky Men's C4T Tactical Boot is a military-inspired footwear designed for optimal performance in challenging environments. This boot is engineered to provide the wearer with excellent traction, durability, and stability on uneven terrains and the roughest grounds. It is made of whole-grain flesh-out leather with 900-denier CORDURA, making it resistant to slips, oils, heat, abrasions, and chemicals.
One of the standout features of the Rocky Men's C4T Tactical Boot is its lightweight design. This boot weighs just 15 ounces, is designed for rigorous work, and is ideal for rucking. The lightweight EVA/rubber outsole of the boot is resistant to everything you go through, making it suitable for long marches or rucking sessions.
The Rocky C4T Gen 2 Ruck Boots are speedy drying, easy to break in, oil, and slip-resistant, and have been compared to a tactical slipper. This makes them an excellent choice for rucking, as they can handle any terrain and weather conditions. They are also water-resistant and fast-drying, which is crucial when constantly in and out of water.
Customer reviews for the Rocky Men's C4T Tactical Boot are generally positive. Users have praised the boots for their toughness and ability to handle terrain. The waterproof feature of the boots has been particularly appreciated by users who are often in and out of water. However, some customers have noted that the boots can be hard to wear, especially for larger feet. There have also been complaints about the shoes being packed in a narrow shoebox, which affects their shape.
Despite these minor issues, the Rocky Men's C4T Tactical Boot remains famous for rucking. Its lightweight design, durability, and resistance to various elements make it a reliable companion for rigorous outdoor activities. However, you should note that the boot does not pass the standards of AR 670-1 or DA PAM 670-1, which may be an issue for particular potential consumers.
In conclusion, the Rocky Men's C4T Tactical Boot is a high-performance boot that offers excellent protection and comfort for rucking. While it has a few drawbacks, its strengths far outweigh its weaknesses, making it an excellent investment for outdoor enthusiasts looking for a reliable and durable rucking boot.
Pros:
Durable construction that can withstand long rucking sessions

Comfortable fit with cushioned insoles and supportive arches

Slip-resistant soles for improved safety on slippery surfaces

Waterproof material keeps your feet dry

Easy to clean and maintain
Cons:
Can be heavy to wear for extended periods

May take some time to break in and become comfortable

Limited breathability can cause feet to become hot and sweaty

Higher price point compared to other work boot options

Some users have reported issues with sizing and fit, so it may be essential to try them on before purchasing.
Garmont T8 BIFIDA Ruck Boots
Buy Garmont T8 BIFIDA Ruck Boots on Amazon
The GARMONT T8 Bifida is a combat boot designed for the needs of rucking enthusiasts. This boot, which stands at an impressive 8" ankle height, is constructed from a combination of 1.8 mm suede and 600 D nylon, making it durable and lightweight. The upper part of the boot is breathable, keeping your feet dry and cool during intense rucking sessions.
One of the standout features of the T8 Bifida is its grip and traction. The boot boasts a T8 BIFIDA sole, superior to the T8 NFS regarding ruggedness. The heavy assorted-shaped lugs on the outsole provide excellent traction, ensuring you maintain balance regardless of the terrain. Whether navigating rocky landscapes or slippery mud, the T8 BIFIDA will keep you stable and secure.
The T8 Bifida also excels in terms of comfort. The polyurethane insole conforms to the contour of your foot, giving a personalized fit that minimizes fatigue and pain. The insole also absorbs shock and reduces the impact of each step, protecting your feet and joints from injury.
Compared to other rucking boots, the T8 Bifida surpasses many in weight and comfort. Although slightly heavier than the T8 NFS, the T8 Bifida provides a better fit and a sturdier feeling. They are robust, sturdy, and have a durable appearance, making them a preferred option for many.
Regarding breathability, the T8 Bifida is designed with a ventilated, quick-drying construction that prevents overheating and excessive sweating. This feature also helps prevent the buildup of moisture inside the boots, which can lead to blisters and other foot problems.
However, every product has its flaws. Some users have reported that the left boot fits and feels perfectly, but the right boot seems to have an issue. This inconsistency in fit might be a concern for some potential buyers.
Overall, the GARMONT Men's T8 Bifida is a reliable choice for rucking. It offers excellent grip and traction, superior comfort, and durability. Its breathability and quick-drying features suit various weather conditions and terrains. Despite minor issues with fit consistency, the T 8 Bifida remains a top choice for servicemembers and rucking enthusiasts alike.
Pros:
High-quality construction with leather and nylon materials

The Vibram sole provides outstanding grip and traction on various terrains.

Waterproof design keeps feet dry and comfortable in any weather conditions

Snug fit with a lace-up closure system for excellent support and stability

Cushioned footbed adds to the comfort for extended periods of wear

High-top design provides excellent ankle support for injury prevention and protection
Cons:
on the pricier side compared to other rucking boots on the market

Some users may find the snug fit to be too tight or uncomfortable for their feet

Limited color options may not appeal to some users who prefer more variety in their footwear choices
Belleville C320 One Xero Boots
Buy Belleville C320 One Xero Boots on Amazon
The Belleville C320 One Xero boots are a marvel of modern footwear engineering, designed with the rigors of military service and intense physical activities such as rucking in mind. Weighing in at a mere 20 ounces per boot, these ultra-light assault boots are lighter than a liter of soda, making them one of the most lightweight army-compliant boots available today.
, The Belleville C320 One Xero boots are constructed using an athletic strobel-stitch technique to offer superior durability and flexibility. The boots feature a Vibram "Incisor" outsole, renowned for its slip-resistant, durable, and waterproof properties. This makes them ideal for traversing various terrains, whether it's a muddy trail or a rocky hillside.
One of the standout features of these boots is their compliance with Army Regulation 670-1, meaning they meet the Army's Uniform Standards and regulations. This is a testament to the quality and functionality of the boots, as they are designed to withstand the demanding conditions of military service.
Comfort is crucial in rucking, and the Belleville C320 One Xero boots do not disappoint. They have a highly cushioned and shock-absorbent midsole, which helps to mitigate the impact of walking or jumping, thus reducing the risk of knee or back pain. The boots also come with removable insoles that can be easily cleaned, helping to maintain hygiene and prevent odors.
Ventilation is another crucial aspect of these boots. They feature medial and lateral dual ventilation zones, allowing frequent air circulation, preventing sweaty feet, and promoting an odor-free environment. This is particularly important during rucking, where feet are subjected to prolonged periods of exertion.
In terms of durability, the Belleville C320 One Xero boots are made from 100% cattlehide leather and nylon fabric, ensuring they can withstand extensive use. The reinforced stitching increases their longevity, even under the most strenuous conditions.
Despite their robust construction, some users have reported that the boots' soles can crack at the pivot point if overtightened. However, this is an isolated issue and is consistent with the overall quality and performance of the boots.
In conclusion, the Belleville C320 One Xero boots are excellent for rucking activities. Their lightweight design, durability, comfort, and ventilation make them a reliable companion for any rucking enthusiast. Whether you're a seasoned Rucker or just starting, these boots will enhance your rucking experience.
Pros:
The Belleville One Xero boots are lightweight and comfortable for extended periods.

They are made with durable materials, ensuring they can withstand tough rucking sessions, harsh environments, and heavy use.

The boots provide excellent support and grip, ideal for hiking and other outdoor activities.

They have a sleek and modern design, making them stylish and versatile.
Cons:
Some users have reported that the boots are not as breathable as they would like, causing their feet to become hot and sweaty.

The boots may not be suitable for those with wider feet, as they can be narrow in size.

The price point for these boots is higher than other options on the market.

They may not provide enough insulation in colder weather, making them better suited for warmer climates.
Additional Tips for Rucking Boots
The Role of Insoles in Rucking Boots
Insoles play a significant role in the comfort and support of rucking boots. They provide cushioning, reduce impact, and can even correct foot alignment. Some shoes come with quality insoles, but consider investing in custom insoles for optimal fit and comfort.
How to Break In Your New Rucking Boots
Before you hit the trails, you must break in your new boots. Start by wearing them around the house or for short walks. Gradually increase the distance and weight you carry. This helps the boots mold to your feet and prevents blisters during longer rucks.
How to Ensure Optimum Care for Your Rucking Boots
Taking care of your rucking boots will extend their lifespan and performance. Clean them regularly, especially after rucking in muddy or wet conditions. Dry them properly to prevent mold or mildew. And finally, consider applying a waterproofing treatment to keep them resistant to the elements.
Understanding Potential Issues and Solutions with Rucking Boots
Dealing with Sizing Issues
Boot sizing can be tricky when it comes to rucking boots. Brands may have different size charts, and individual foot shapes can affect the fit. Try boots on in person. If ordering online, check the brand's size chart carefully, read customer reviews for insights, and feel free to exchange if the fit needs to be corrected.
Preventing Blisters and Rubs
Blisters and rubs can turn a pleasant ruck into a painful ordeal. Ill-fitting boots or wet conditions often cause them. Ensure your shoes fit well and are appropriately broken in to prevent them. Also, wear moisture-wicking socks, keep your feet dry as much as possible, and consider using blister prevention products like tapes or special creams.
Choosing the Right Socks for Rucking
Socks are just as important as boots when it comes to rucking comfort. Look for socks that wick moisture away from your skin to prevent blisters and provide cushioning but not so thick that they make your boots too tight. Materials like merino wool or synthetic blends can balance comfort, moisture management, and durability.
Conclusion
Final Thoughts on Finding the Best Rucking Boots
Finding the proper boots for rucking is a journey in itself. With many options on the market, it may seem overwhelming at first. However, with the correct information and understanding of what you need for your specific rucking conditions, you can find the ideal rucking boots that offer comfort and performance on any terrain. Remember, the best boot is the one that fits you well, meets your needs and keeps you comfortable throughout your ruck. Happy rucking!